Costa Rica´s locals (Ticos!) are the masters when it comes to living cheerful and laid-back lives. A huge part of this contented lifestyle is influenced by a special relationship with nature; one that understands the link between human happiness and access to pristine natural environments. With this appreciation and love of getting outside, comes a commitment to protecting and preserving Costa Rica´s natural beauty, not just for present populations, but also for future generations to enjoy. 
A profound and active relationship with nature has led Costa Rica to become the model for eco-conscious travel that it is today. All the Costa Rica hotels we work with have implemented numerous practices to minimize their harmful impact on the natural surroundings, with many assisting their communities through employment, training, and social projects, and in some cases contributing to environmental wellbeing via protection-focused land acquisition and ambitious reforestation projects. Even 30 years ago, the country´s sustainable landscape was not so fertile however, and one monumental step took place in 1970 with the creation of the globally praised National Park System to help protect and conserve the country´s mind-blowing biodiversity, which hosts over 500,000 species of plants and animals.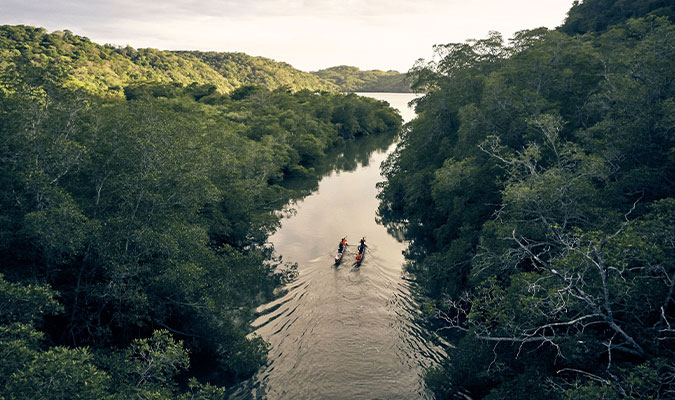 Set up by the government and monitored by SINAC (National System of Conservation Areas), together with privately owned reserves and biological corridors, the extensive network has expanded to include 186 protected areas all over Costa Rica, that´s almost 26% of the country´s landmass! In addition to 31 National Parks, the system also covers 34 wildlife refuges, 15 biological and forest reserves, 11 wetlands, and 33 protected zones, giving Ticos and travelers the chance to experience striking volcanoes, dense rainforests, spectacular coral reefs, and diverse wetlands. By protecting a wide a range of habitats, Costa Rica´s National Park System supports the flora and fauna that makes us love being here so much.  
Read below for a taste of why we think these six National Parks in Costa Rica are so magical! 
Tortuguero National Park, Caribbean Region 
Nestled in the northern corner of Costa Rica´s Caribbean Region, Tortuguero National Park feels off the beaten track as it´s only accessible by boat or plane. You can rack up an amazing count of different habitats (there are eleven!) exploring the park, including rainforest, mangrove forest, beaches, and lagoons. We loved taking a boat down the Tortuguero canals and excitedly spotting resident manatees, crocodiles, frogs, and even sloths and parrots up in the trees! Turtle conservation is at the heart of Tortuguero´s mission, with the local beach protected as a crucial nesting site for endangered green sea turtles, as well as giant leatherbacks, hawksbills and loggerheads. The magic of kids watching thousands of turtle babies scuttle out to the sea is hard to beat! Occasionally, jaguars come to the beach to prey on huge adult turtles, which is one fierce spectacle to behold.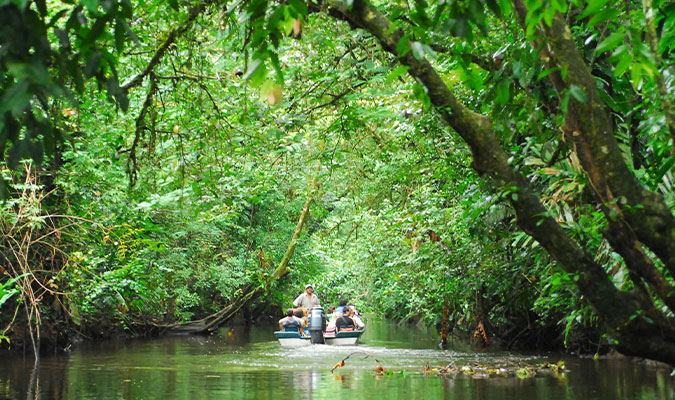 Monteverde Cloud Forest Reserve, Northern Region 
Monteverde is home to one of Central America´s last expanses of untouched Cloud Forest and the reserve was established to ensure it stays that way. With tropical rainforest and ethereal low-lying clouds, wandering through these meandering trails is an otherworldly experience. We could almost feel the wisdom of the trees, layered with years of vegetation – walking in a forest ecosystem that dates back millennia is an astounding thought! The co-existence of some remarkable species can be found here, like the shimmering resplendent quetzal, howler monkeys, intricate orchids, and bromeliads bursting from tree branches. Monteverde´s unique ecosystem and climate mean that many of its plant species are endemic, so you won´t find them anywhere else in the world.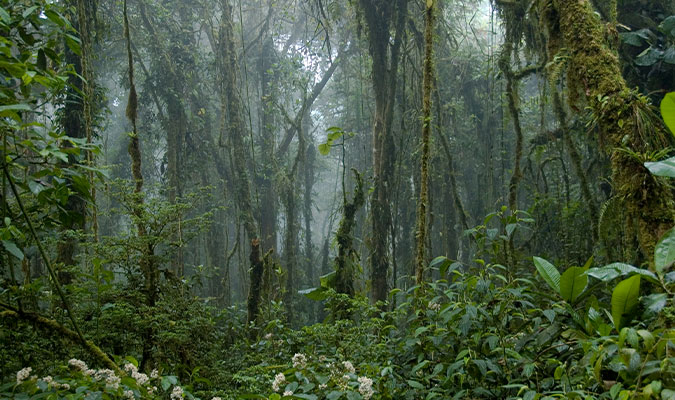 Corcovado National Park, Osa Peninsula 
Corcovado is the largest of Costa Rica´s National Parks, covering almost half of the remote Osa Peninsula, and remains the country´s least touched area. You may have heard Corcovado described as ¨the most biologically intense place on earth¨ and this region really is bursting with wildlife, hosted by the 13 major ecosystems that make up the park. Even the most elusive and endangered species can make an appearance here, from majestic jaguars to scarlet macaws and red-backed squirrel monkeys. In short, it´s like being dropped into Eden; surreal, wild, beautiful, and hands down the best place to really feel the grandeur of Costa Rica´s wildlife.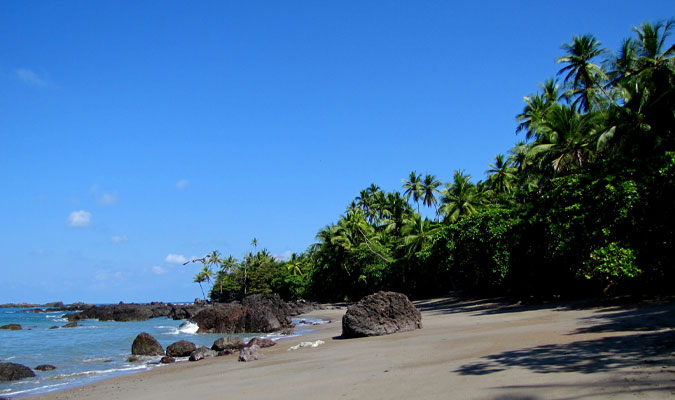 Arenal Volcano National Park, Northern Region 
Set up in 1991, this National Park is home to Costa Rica´s icon, the majestic Arenal Volcano. This perfectly symmetrical, conical wonder was active until recent years and continues to heat surrounding natural mineral pools that we happily melt into whenever we´re in town. As if playing with the power of its own appearance, Arenal hides away on cloudy afternoons only to reveal its spectacular presence when you open your curtains the next morning – that´s great showmanship! When we´re not relaxing in therapeutic hot springs, we always love taking a hike through the National Park´s rainforest, admiring the flora and fauna, and searching for lava formations made many moons ago. Birdwatchers get your binoculars ready; you can spot almost all of Costa Rica´s 850 bird species here.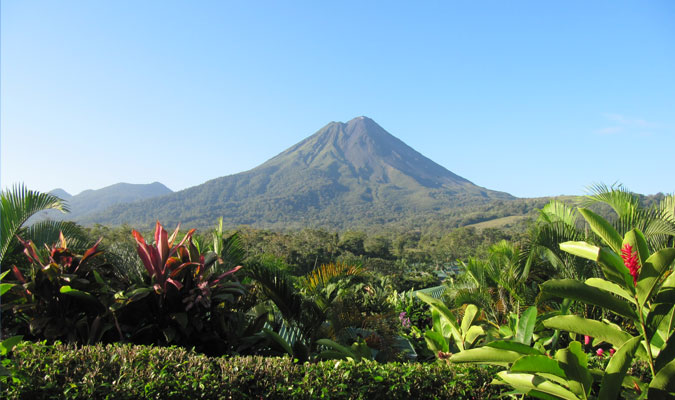 Marino Ballena National Park, Central Pacific Region 
Marino Ballena National Park is located on the Central Pacific Region´s southern tail, beside the quiet town of Uvita. The largely oceanic park takes its name, ´marine whale´, from two local, natural spectacles; the humpback whales that can be seen gracing the area on their annual migrations, and as serendipity would have it, a sandbar that stretches out to the ocean in the shape of a whale´s tail. Traveling south from Alaska in December to March, and north from Antarctica from July to October, these majestic creatures arrive to mate and calve in the Pacific Ocean´s warmer waters. We were speechless while witnessing the tenderness of a mother whale and the curiosity of her baby. It´s the moments of connection with such gigantic beasts that will take your breath away; feeling a sentient unity with beings from the underwater world.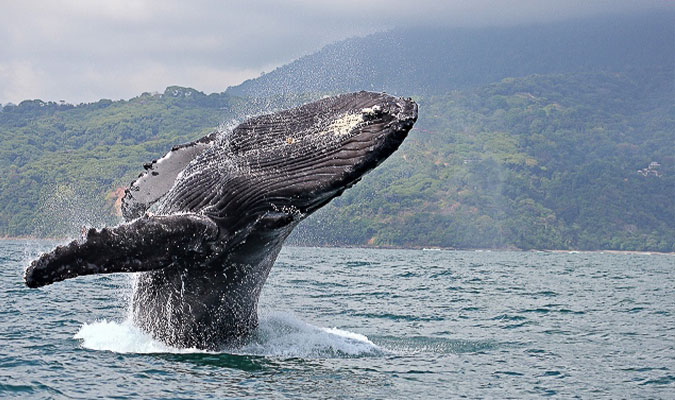 Manuel Antonio National Park, Central Pacific Region 
Manuel Antonio is one of Costa Rica´s smallest National Parks and as the closest to San José, is a favorite amongst Ticos and travelers. Located on the Central Pacific Coast, you can expect paradise scenes of lush tropical forest, white sand beaches, and turquoise waters. The park´s two main beaches, Manuel Antonio and Espadilla Sur, flank an isthmus that´s thick with palm trees where beach-hopping is simple through a short jungle crossing! Manuel Antonio is one of the easiest parks to experience as you can relax on the beach, swim, and see wildlife (those monkeys are not shy!) without too much of a challenge. It´s a great place to see just how much Ticos love their National Parks, where you´ll see families and friends taking some time out to enjoy nature. We like to bring our guests down early morning when you can get the park almost to yourself.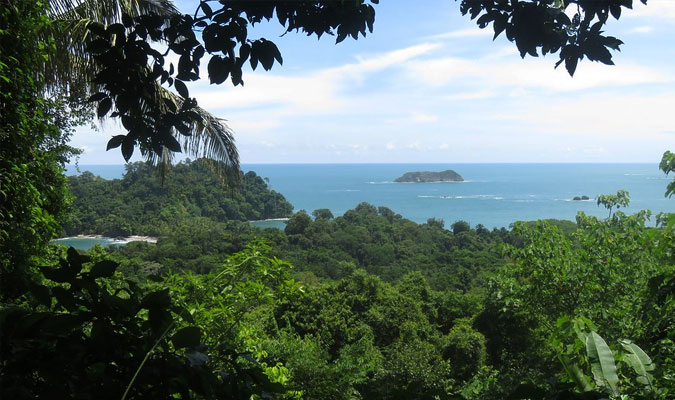 From the conservation of Monteverde´s rare cloud forest, to protecting turtle nesting sites at Tortuguero, and keeping Marino Ballena´s beaches spotless, national efforts to actively preserve and revive areas of natural beauty have an intrinsic connection to seeking a happy life. The Costa Rican lifestyle shows how fulfillment has deep roots in access to immaculate nature, the compassion to share this with each other as well as future generations, and understanding the transformative effect it can have on collective wellbeing.  
Ready to Plan your Costa Rica Vacation?
Start planning your visit to one of Costa Rica's National Parks by browsing our collection of sample itineraries created by our Costa Rica travel planning experts.