Our relentless exploration in Costa Rica has led us to some extraordinary private estates we´re excited to tell you about. A great match for small groups of families or friends looking for a private yet authentic getaway, Hacienda Montezuma is one property you´ll want to have on your radar.
Where is it?
This peaceful hacienda is located in the Guanacaste region of northern Costa Rica, a 1.5-hour drive from Libera (LIR) international airport. The property´s grounds encompass over 2,200 acres of protected primary and secondary forest, nestled between the Miravalles and Tenorio volcanoes.
What's the vibe?
Slow down, reconnect with nature, and ease into the rhythms of life in rural Costa Rica. Hacienda Montezuma is a working cattle ranch and gorgeous nature reserve with swimmable lakes, rivers, old-growth forests, and two charming houses. Owner and host, Floriana Acosta, welcomes guests to her family home for an authentic experience of Costa Rican nature and culture in the countryside. You´ll be well looked after by Floriana and her team, from accommodation and activities, to curated meals made with organic ingredients grown at the farm.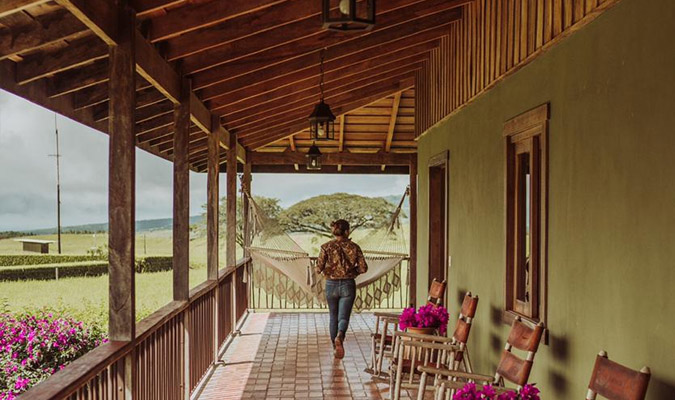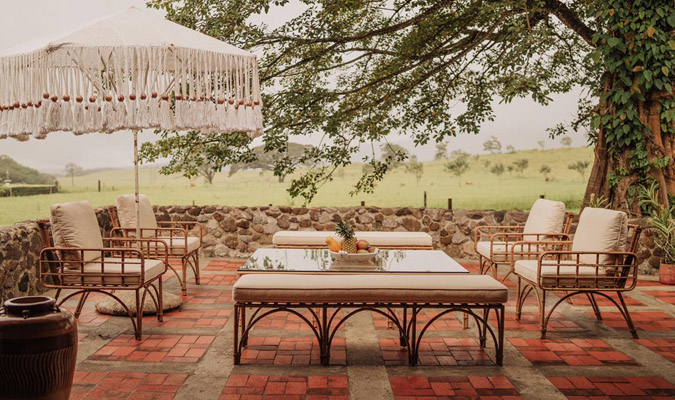 Where will I stay?
The five-bedroom La Casona and three-bedroom La Casita can host a total of sixteen guests across a mix of king, queen, and twin bedrooms. Enjoy siestas on hammock-slung terraces with natural views, and lots of comfy corners to unwind. We love that Hacienda Montezuma only invites one party at a time, so you´ll have a super private experience! Floriana´s attention to detail and a creative eye see the homes decorated with impeccable style. Her love for textiles shines through and you´ll find unique pieces of art throughout, collected on world travels from Morrocco to Mexico.
What is there to do at Hacienda Montezuma?
Days at Hacienda Montezuma are spent getting back to nature, with as much adventure or relaxation as you like. Think long bike rides, lakeside picnics and paddle boarding, wildlife tracking, fly fishing, horseback riding and cooking classes. In the evenings, look up to the stars gathered around a post-dinner firepit. Floriana grew up in the area and is very well connected with the local community – she´d love to take you on a walk through the surrounding rural villages!
What makes it special?
As Hacienda Montezuma is booked on a private basis you´ll have the grounds to yourself, shared only with the passionate staff that work there – kids love meeting the farm´s real cowboys! It´s a magical place to disconnect from the busy world and reconnect with nature. Floriana gives the hacienda a lot of heart and opened the farm to guests so they could benefit from being immersed in nature and learn from it as she has. After a lifelong passion for the natural world, animals, and growing up on farms and beaches, her father bought the hacienda as a family home and Floriana seamlessly transitioned from working in fashion back to her rural roots.
What's Included with my stay?
Hacienda Montezuma opens its doors to guests between February and August, with a 3-night minimum stay. Three farm-to-table meals are served each day by a dedicated chef, plus a jeep and guide are available for all the complimentary onsite experiences. Guests have complete freedom to explore with full run of the property!
As an add-on, lakeside yoga sessions and massage therapists can be arranged upon request.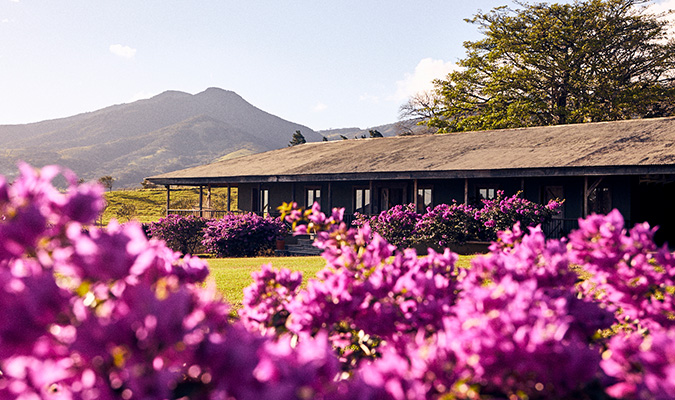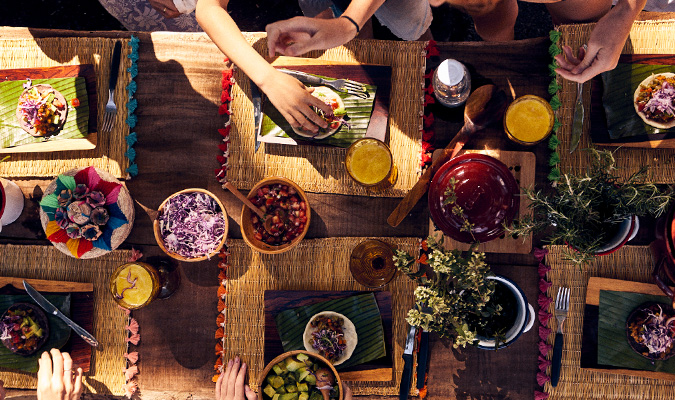 Sustainability
Once a major supplier of coffee, dairy products, and fruit in the late 1800s, the farm now preserves 700 acres of land which host an array of wildlife species like tapirs, anteaters, monkeys, sloths, coatis, wild cats, and remarkable birds and butterflies. Water is sourced from mountain springs, the hacienda generates its own energy, and organic ingredients are grown on site. The Montezuma team is like a family! Most of the staff is from the surrounding area, and the property collaborates with the local community to share its farming practices and produce.
How to book Hacienda Montezuma – Still open for Festive 2023/2024
Hacienda Montezuma is not open for reservations to the general public. Journey Costa Rica has preferred access as a booking channel. Contact us for more information and pricing.

Also check out: Hacienda Costa Rica, a Private Villa Estate in Costa Rica | Journey Costa Rica