A NOTE FROM OUR CO-FOUNDER & GM:
With spring vacation now behind us, Journey Costa Rica can proudly claim our first successful high season. Launched just last September with optimism for the future, our fledgling company has come a long way in these past eight months. We've welcomed over 200 intrepid travelers who have explored every nook and cranny of this breathtaking country alongside us. Our team has grown to a tight-knit crew of seven, composed of seasoned industry veterans and bright, young talents.

Yet, it's not just the numbers that make us proud. It's the impact we've been able to create. Our guests have been awe-struck by the highly personalized service we offer, and our travel advisors have valued our quick response times and innovative itineraries. We've also been able to give back to local communities and the environment by supporting the Bosque Vivo reforestation and education project – more to come about this soon!

In a mere eight months, Journey Costa Rica has exceeded our wildest expectations. We are immensely grateful to the advisors who have shared our vision and believed in us. As we look ahead, we are eager to continue growing and giving back together, fueled by our unwavering passion for travel and adventure.

– Javier and the Journey Costa Rica team
WHAT CLIENTS ARE SAYING ABOUT US
We´ve been overjoyed by the positive feedback we´ve received from our travelers, and we want to share with you what made their experiences in Costa Rica so special!
"From start to finish our experience with Journey Costa Rica was phenomenal. Every single representative of the company was extremely knowledgeable and profssional. The drivers were great and definately knew how to navigate the winding and steep terrain. The vehicles were new and clean with A/C and fully stocked with snacks and drinks. The guides were so passionate about sharing their knowledge and lvoe for their country. We really appreciated how fleixble they were with accomodating different asks to stop, whetehr it was for restrooms, snacks, shop or a picture. We felt so safe and comfortable. than you for being so welcoming and helping us explore all of Costa Rica's beauty"
– Kerry Tudor, Travel More via Virtuoso Network, February 2023
"We couldn't have had a better experience than the one that your team planned for us. The accommodations, service and attention to detail were all exceptional, and we're so grateful to Experience Costa Rica for organizing such a beautiful, unforgettable trip. We hope to return again soon to Costa Rica!"
– Theresa Murphy, March 2023
"Amazing trip. Exceptionally well planned down to the last detail and the communication before and during the trip was excellent. It was nice to not have to think about a single thing and simply enjoy Costa Rica. Would definitely recommend to anyone who wants to have a first rate travel experience. !Pura Vida!"
– Nathan Yohe, February 2023
"One of our best trips ever! The entire Journey Costa Rica Team made the trip effortless and exceptional from transfers to in-trip service. The tour providers were first rate and our primary driver and tour guide Fabriso was excellent and went over and above during our trip. Thank you!"
– Paul Hoffman, January 2023




WHERE OUR GUESTS HAVE TRAVELED
Take a closer look at some of the experiences and accommodations we´ve arranged for our guests.
TRIP FOR TWO
On this trip for two, our travelers started out in the central valley highlands with a 4-night stay at El Silencio Lodge & Spa, set amongst 500 acres of magical cloud forest. We took our guests out to explore the area, with a jungle hike at Del Toro waterfall, mountain biking through rural Costa Rican countryside, and a visit to a former cacao plantation where they got to crack open raw cacao fruit, grind the seeds, and create their own chocolate.
Next up was a four-night stay at The Springs Resort & Spa, complete with vistas over the Arenal valley and private hot springs along the river. Our travelers took part in some adrenaline pumping activities, including taking on the rapids while rafting at Balsa River, ziplining over lush canopy, and admiring a bird´s eye view of the tropical forest from an aerial tram.
The final part of the journey continued to Las Catalinas, a modern beach town on the beautiful Guanacaste coastline, backed by forest, and with the refreshing absence of cars! Aside from relaxing in their private villa, our guests visited the Palo Verde wetlands to take a boat ride and spot the vast array of wildlife that call this important ecosystem home. The experience rounded out learning about the journey of rum, from sugar cane to glass, and tasting Costa Rica´s favorite spirit.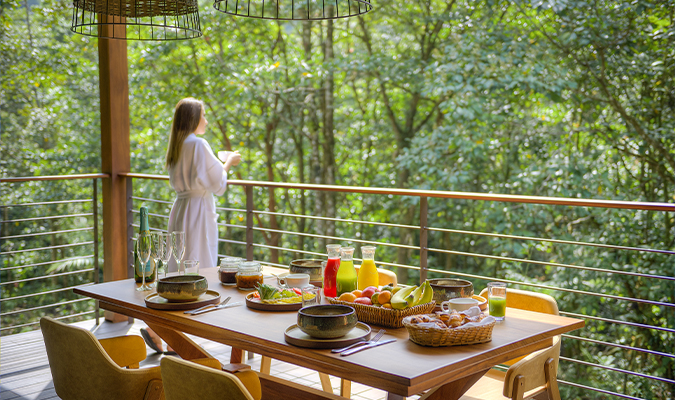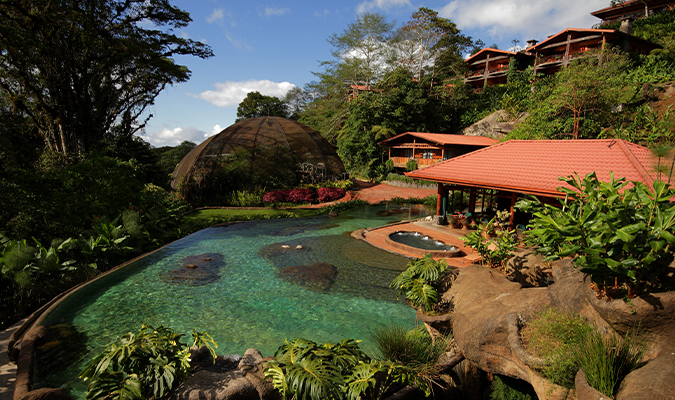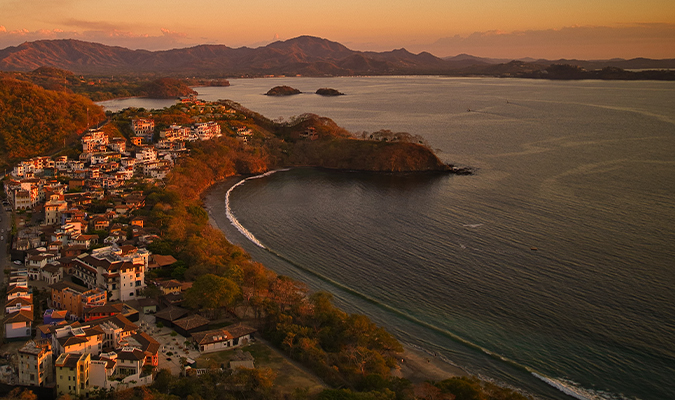 FAMILY VACATION
This family adventure began at Monteverde Lodge & Gardens, framed by a private cloud forest reserve hosting exotic birds, sloths, and elegant orchids. We arranged for our guests to take an aerial tram up the highest mountain in Monteverde with views over the surrounding forest, before ziplining through the verdant canopy and between canyons.
On the way to their next hotel, our family travelers hopped on a boat to cross Lake Arenal, arriving to The Springs Resort & Spa. Some rock climbing and rappelling were in order, as well as thrilling river tubing, passing blue pools and gentle rapids that led to a beach surrounded by hot springs, waterfalls, and nature trails.
Journey Costa Rica sorted out a rental car for our travelers to self-drive down the coast to Uvita for a final three-night stay at one of Villa Celestial´s ocean view villas. The grand finale included spa treatments, yoga practice, sound healing, and a guided kayak session through the mangroves.
COUPLE´S GETAWAY
This couple´s getaway kicked off with three nights at the gorgeous Hacienda AltaGracia. Set at the foothills of the Talamanca Mountains amongst 180 acres of untamed tropical forest, the grounds feature a coffee farm, organic chef´s gardens and even stables with resident horses, plus an incredible well-being center by NYC´s The Well. Our guests got to roam the beautiful surroundings on horseback with a guided ride up a mountain trail.
After a private, scenic flight over the Costa Rican landscape, our travelers settled into Playa Cativo Lodge for four nights, situated in the southern reaches of the country on the Golfo Dulce. This is the place for nature immersion, and our couple got straight into exploring the adjacent Piedras Blancas National Park on a guided hike, learning about the area´s rich diversity of flora and fauna.
The Golfo Dulce is one of only four tropical fjords around the world and home to a variety of marine life – one of our favorite things about this place! Our guests headed out on a dolphin spotting quest to close their trip immersed in natural wonder.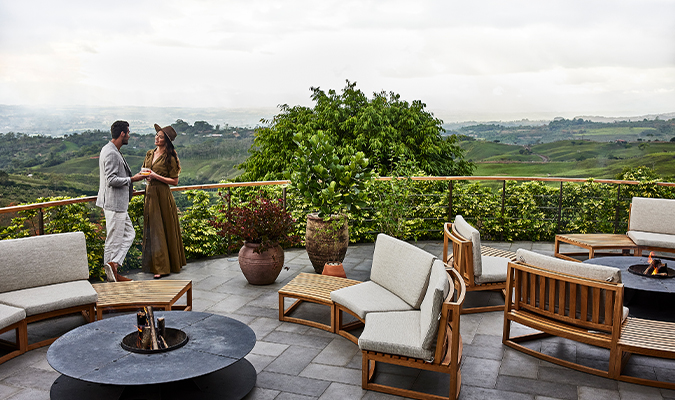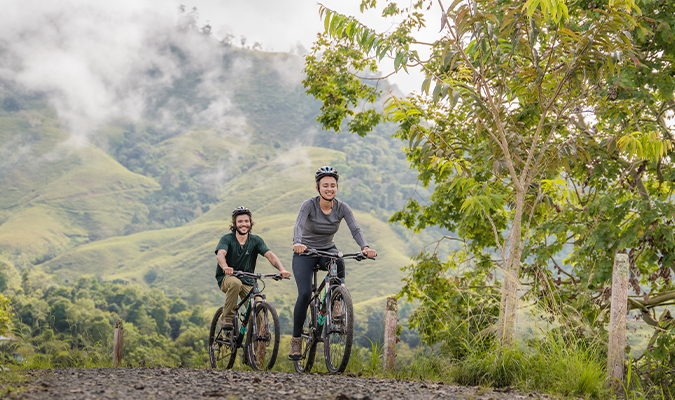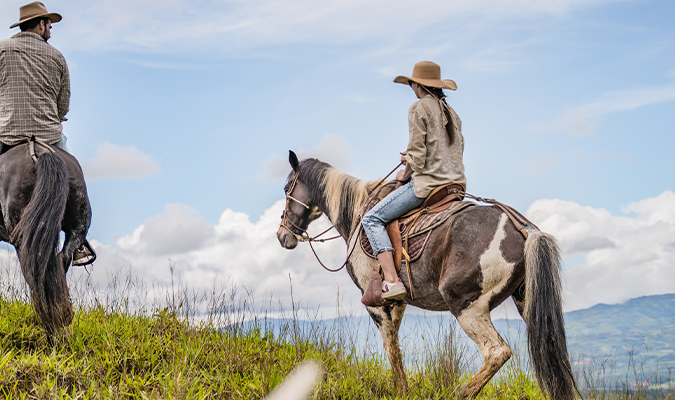 READY TO EXPERIENCE COSTA RICA FOR YOURSELF?
We'd love to help you plan your trip to Costa Rica. In the meantime, take a look at our sample itineraries, or browse our luxury Costa Rica hotel portfolio and let us know what inspires you!