Last week we went traveling around Costa Rica, digging deep into properties, places, and experiences. We traveled from the Central Valley Highlands, to beachside Manuel Antonio, and the remote Osa Peninsula. Read on for an inside glimpse of what our creation trips are all about and get behind the scenes with Journey Costa Rica.
These trips are fundamental to ensure an elevated experience for our travelers and it´s super important to us to create a personal connection with our collaborators. It´s crucial that our expert guides, hotel managers, and private drivers know our team and our guests´ needs, so they can provide an enhanced service with the warmth of an old friend.
For us, these visits are an active opportunity to create and re-create. We come to learn and to listen, to improve and design. Not all experiences and hotels meet the JCR standard, and that´s what our creation trips are all about, to identify the ordinary and upgrade it into something extraordinary (one of our three pillars is innovation after all!) This was the case in Manuel Antonio when we took a guided kayak session through coastal mangroves. It felt busy, rushed, and well…just unspectacular? We knew the chance to explore and learn about mangrove forests from the water could be special, so in our version we´ll take a boat out to kayak through a pristine area of mangroves with a champagne cooler and an environmental expert to illuminate the way, why not?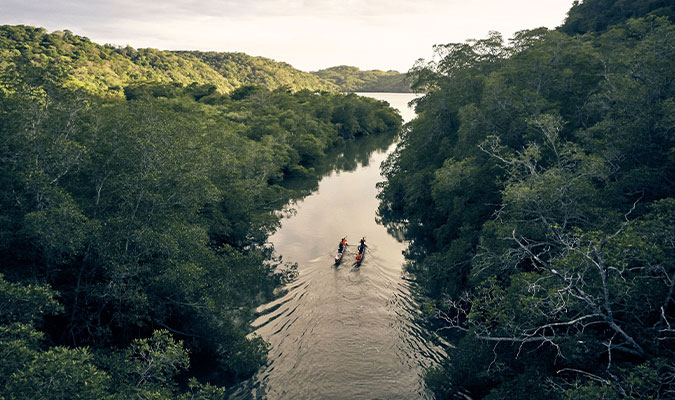 Of course, there are big highlights on creation trips and this time, Hacienda AltaGracia got us really excited. Located at the foothills of the Talamanca Mountains southeast of San José, this is a world-class property with strong connections to the local culture and the wellbeing of its guests.
We were blown away by our experiences here! We learnt how to make cheese at a neighboring family farm. We followed the journey of coffee beans from plantation to cup. We even got to go horseback riding with true Costa Rican cowboys through lush scenes of green that were nothing short of breathtaking.
The depths of wellbeing can be explored at Hacienda AltaGracia, where a personal definition is determined by each individual. Whatever makes a guest feel good – yoga, sunrise mountain hikes, baking in a sauna, natural river baths, a hearty meal – it´s all encouraged if it makes them happy.
The resort has teamed up NYC´s holistic wellness center, The Well, and as a result the spa is next level. While some of us aren´t exactly pamper people, we were all coaxed in by the glass-built pavilion with a huge swimming pool and warm stone marble beds. Before long we were exfoliated and caked in local clay as part of a purifying ritual, before being whisked off for dreamy treatments.
We got back inspired, motivated, and with lots of food for thought. We loved listening to local guides and experts, collaborating with them to work out how to make an average experience exceptional. We´re grateful for the generosity and wisdom of the Ticos (locals!) who shared their time and stories with us. We´re in awe of Costa Rica´s powerful natural beauty and how it made us feel. And, we are so excited to share it all with JCR´s special clients.