Costa Rica is adored by Ticos (their local people) and sought out by visitors for its natural beauty, vast array of flora and fauna, and contented ´pura vida´ way of life. The beautiful country has 28 National Parks, including 3 UNESCO World Heritage Sites, that were established back in 1970 to preserve and protect the natural environment. With a wealth of ecosystems and deep roots in conservation – around 28% of Costa Rica is protected land – the country enjoys spectacular biodiversity and hosts over 500,000 species.
The variety of experiences available across the country takes visitors hiking through lush jungles and cloud forests, on adrenaline-pumping river rafting and zip lining trips, into relaxing volcanic geothermal springs, and to surf the waves of the Pacific coast. Animal lovers get the chance to witness striking scarlet macaws and toucans, spider monkeys, vibrant butterflies, and chilled out sloths. Such a range of opportunities welcomes many different types of travelers to each live their own unforgettable vacation.
In a world that´s resurfacing from the Covid-19 pandemic, an evolving global interest points towards more conscious and responsible travel, complimented by safety, health, and open space. Costa Rica is well qualified to meet these needs, as a country that showcases conservation efforts, quality of life, and immersion in nature and the outdoors. Guests can find an abundance of eco-accommodation options that strive to minimize their impact on the natural environment, while inviting connection with it.
Journey Costa Rica believes that how we travel matters, working closely with hotels that are committed to a vision towards sustainability. Find out how these three hotels and collections are leading the way in Costa Rica´s sustainable tourism efforts.
Cayuga Collection
This eco-conscious group has eight five-star properties in Central America, six of which reside in stunning locations throughout Costa Rica. The small, luxury hotels sit in relatively remote locations, from the beachfront in Manuel Antonio National Park, to the Uvita Rainforest, and Monteverde´s cloud forest. Hans Pfister, CEO and co-founder with Andrea Bonilla, spoke of how Cayuga Collection aims to find a ´symbiosis of luxury and sustainability´, with a commitment to conserve both the surrounding ecosystems and communities, while offering a luxury experience.
With a conviction that ¨local¨ is crucial to sustainable hospitality, Cayuga´s ethos includes buying locally and hiring locally, with staff employed from the area and investment made in their training. At all properties, guests are invited on a ´back-of-the-house´ tour to see first-hand the recycling efforts, treatment plants, and other sustainability practices taking place. Across all hotels, single use plastics have been banned, and the four R´s adopted: Refuse, Reduce, Reuse, and Recycle.
Each of the hotels adapts its measures as is necessary and possible, some with their own organic green houses or hydroponic gardens, where herbs and veggies are grown and used by the chefs, as well as solar water heating, purification systems to use wastewater for garden irrigation, and the use of fast growing teak wood as a sustainable building material. Depending on the location, staff volunteer to
participate in bi-monthly beach or forest clean-ups, and at Arenas del Mar Beachfront & Rainforest Resort, thousands of endemic plants and native trees have been planted in an ongoing re-forestation initiative.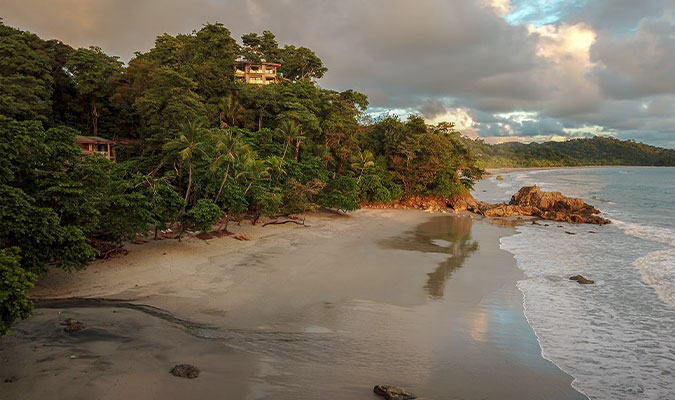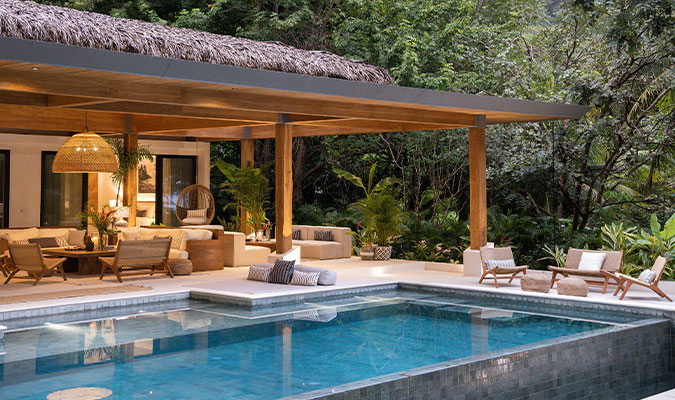 Böëna Wilderness Lodges
Böëna´s wilderness ecolodges span a network of four beautiful hotels with locations on the Pacuare River, at the tip of the Osa Peninsula´s rainforest, in Monteverde´s breathtaking cloud forest, and on the canals of Tortuguero National Park on the north Caribbean coast. Co-founder Roberto Fernández´s vision began 30 years ago while camping on the shores of the Pacuare River, where he was struck by the need to protect and preserve Costa Rica´s natural paradise.
With a mission to protect as much forest as possible, Böëna has acquired more than 1,977 acres (800 hectares) of primary and secondary forest. These sit along important biological corridors and delicate locations near national parks, in order to contribute to their conservation. As a sustainable way of constructing the luxury lodges, lumber was used from small tree farms dedicated to reforestation. All
operations are carbon-neutral, with the hotels generating their own electricity, and heating water by solar power. Focusing on neighboring communities, the majority of staff are local residents, plus Böëna works with thousands of school-age children to provide environmental education to the next generation.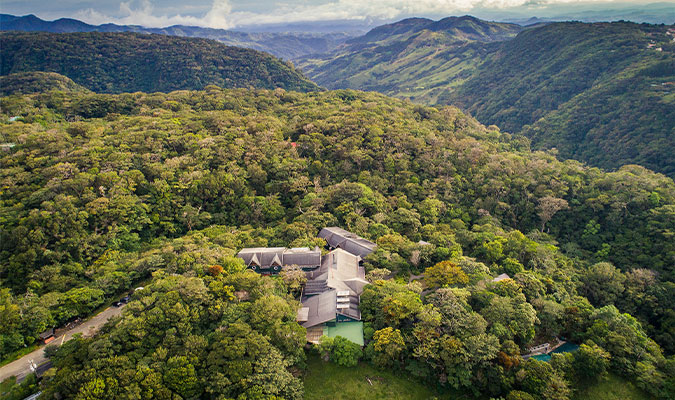 Monteverde Lodge
Kasiiya Papagayo
On Costa Rica´s north Pacific coast Kasiiya Papagayo lies in the heart of Guanacaste, Central America´s last tropical dry forest. The grounds cover 123 acres (50 hectares) of bio-diverse landscape, with just nine luxury suited tents, for ultimate privacy, that are located in the forest, hilltops, or with direct beach access. Meaning ¨find your pace¨, guests at Kasiiya are encouraged to find their rhythm through
strengthening their relationship with nature.
At the core of the hotel´s concept is a respect for local flora, fauna, and communities: the staff consists of neighboring residents, local craftspeople create 85% of the property's woodwork, ingredients are sourced locally, and the property integrates solar energy and electrically powered vehicles into its operations. Built without cutting down trees or pouring concrete, Kasiiya could be packed up without
leaving a mark. In line with the company´s ethos, 20% of all profits flow into local social and environmental projects, including turtle conservation, carpentry and healing centers, and in building more space in schools to improve study conditions.
Costa Rica has long been turning heads for its eco-approach to enjoying the amazing landscapes, wildlife, and natural beauty the country has to offer. As the country´s Tourism Minister Gustavo Segura Sancho explains, ¨Sustainability has long been embedded in the culture and traditions of Costa Rica…This inherent love of our surroundings means we want to conserve its many species of animals,
insects, trees and birds for decades to come." As a result of conscientious action and prevention, Costa Rica shows how sustainable tourism can have a positive effect on the local environment and its communities.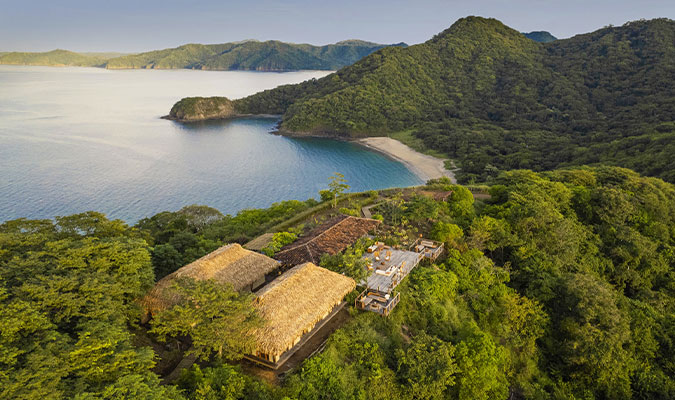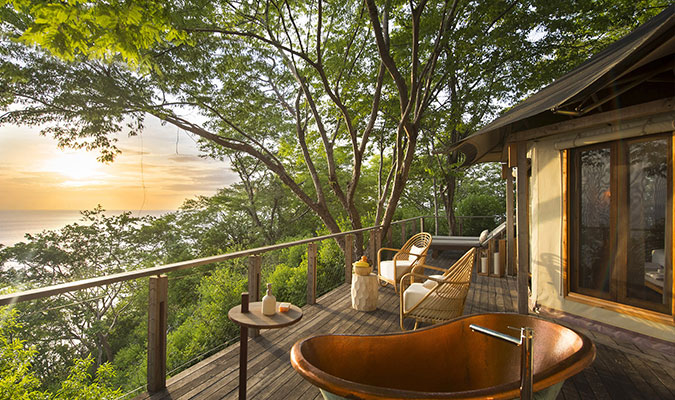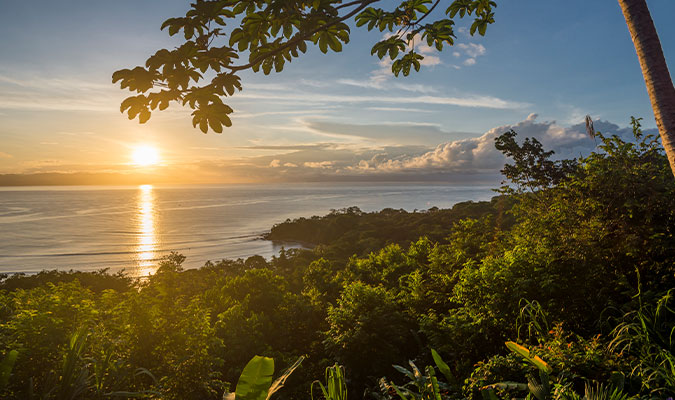 Lapa Rios Lodge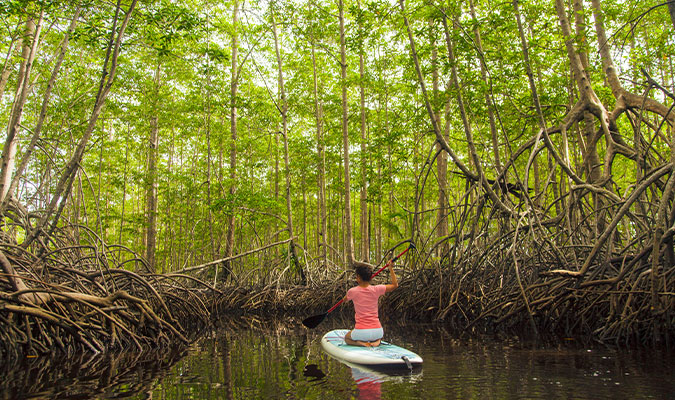 Uvita de Osa 
We encourage you to browse all our hotels in Costa Rica and learn about the sustainable measures each of them are taking in their properties